EPAT: Regenerative Medicine for Musculoskeletal Pain in South Plainfield NJ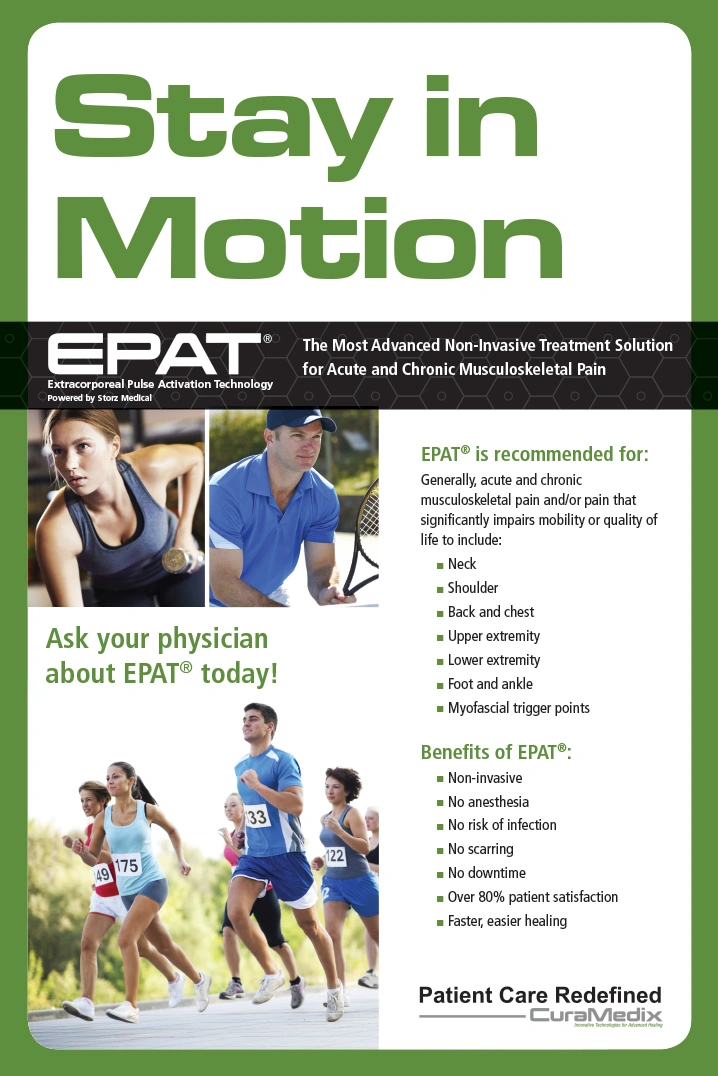 EPAT: Extracorporeal Pulse Activation Technology
Regenerative Medicine Redefined
---
LET'S TREAT THE ROOT CAUSE OF YOUR PAIN In South Plainfield NJ!
Our state of the art South Plainfield NJ clinic now introduces Extracorporeal Pulse Activation Technology, known as EPAT - Non-surgical therapy for pain. It is the most advanced and highly effective non-invasive treatment method cleared by the FDA. This proprietary technology is based on a unique set of pressure waves that
Stimulate the metabolism
Enhance blood circulation
Accelerate the healing process
Regenerate damaged tissue
Restore mobility
EPAT therapy can be utilized to effectively treat a wide variety conditions:
Acute or chronic musculoskeletal conditions that significantly impairs mobility and quality of life, such as:
Frozen Shoulder (adhesive capsulitis)
Tendonitis/Bursitis: Achilles tendonitis, plantar fasciitis, Epicondylitis
Elbow pain (Tennis elbow, golfer's elbow)
Knee pain
Hip pain
Chronic Back & Neck Pain
Shin Splints
Overuse Injuries
Sports Injuries
Myofascial Trigger points
---
Why consider non-invasive EPAT®?
EPAT® has a proven success rate that is equal to or greater than that of traditional treatment methods (including surgery) and without the risks, complications and lengthy recovery time. EPAT® is performed in our office, does not require anesthesia, requires a minimal amount of time, patients can immediately bear weight (i.e. walk), and return to normal activity within a few days of the procedure.
The success rate of EPAT treatment will depend on understanding the root cause of your condition
---
How is the treatment performed?
Coupling gel is applied to the specified treatment area to enhance effectiveness. After these preparations, EPAT® pressure waves are released via the applicator which is moved over the area in a circular motion.
---
What are the possible side effects/ complications?
The non-invasive EPAT® treatment has virtually no risks or side effects. In some cases, patients may experience some minor discomfort which may continue for a few days. It is normal to have some residual pain after intense exercise or a full day of work.
---
What are the expected results?
The beneficial effects of Extracorporeal Pulse Activation Technology (EPAT®) are often experienced after only 3 treatments. Some patients report immediate pain relief after the treatment, although it can take up to 4 weeks for pain relief to begin. The procedure eliminates pain and restores full mobility, thus improving your quality of life. Over 80% of patients treated report to be pain free and/or have significant pain reduction.
---
Is it safe?
Yes. This FDA cleared technology was developed in Europe and is currently used around the globe. A wealth of medical experience, state-of-the-art engineering, and optimal quality have been built into each EPAT® device; and extensive clinical studies and tests have confirmed its safety and efficacy. If performed by a qualified caregiver, Extracorporeal Pulse Activation Technology (EPAT®) has virtually no risks or side effects
---
ARE YOU SUFFERING FROM DEBILITATING PAIN?
EPAT MAY BE YOUR ANSWER!
CALL TODAY! (908) 755-3646
SCHEDULE YOUR APPOINTMENT WITH DR. PATEL TO LEARN ABOUT PAIN MANAGEMENT WITH EPAT!
OFFICE HOURS
---
Monday
10:00am - 8:00pm
---
Tuesday
Closed
---
Wednesday
10:00am - 8:00pm
---
Thursday
Closed
---
Friday
10:00am - 8:00pm
---
Saturday & Sunday
Closed
Chiropractic Health & Rehabilitation Center - South Plainfield